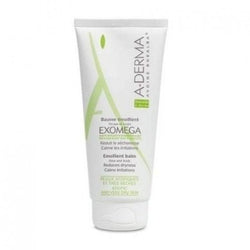 Aderma Exomega Emollient Balm 200ml
DESCRIPTION
Aderma Exomega DEFI Emollient Balm is a sterile emollient care for atopic and very dry skins.It moisturises, protects and durably reduces redness, calms irritations and helps restore the cutaneous barrier.Its rich and non sticky texture is easy to apply and quickly absorbed by the skin.
Paraben-free, its high cutaneous tolerance has been verified under dermatological and paediatric control.
DEFI: Dispositif Exclusif Formule Intacte (Exclusive System with Intact Formula).This unique combination, resulting from Pierre Fabre research, guarantees a sterile and protected care all along the use.
0% paraben, 0% preservative, 0% fragrance. Hypoallergenic.
A-Derma Exomega DEFI emollient balm emollient sterile treatment with an active natural plant that contains only essential gliingredienti to soothe the skin atopic and very dry. Consistency ultra-rich emollient. Suitable for babies, children, adults. No parabens, no preservatives, no fragrance. Seedlings of extract AvenaRhealba It soothes the skin. Filaxerine Association of fatty acids Omega 6 and an active inductor original filaggrin chefavorisce the restructuring of the skin barrier. vitamin B3 It helps restore the skin barrier. How to use 1 or 2 applications a day. After each use, remove excess product left on the capsule and close iltappo. While using the cap can be color; this does not alter laqualit of the product. It's normal to exert leggermentesuperiore pressure than a classic pipe to ensure the flow of product. components Extract of plantlets of rhealba oats; filaxerine; Vitamin B3. Format 200 ml tube. Cod. C36908