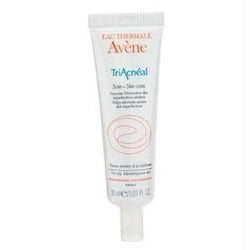 Avene Triacneal Expert Cream 30ml
DESCRIPTION
New Avene Triacneal Expert 30ml To Replace The Old Version
Diolényl patented innovation that has a triple action to limit bacterial growth, reduce redness and help eliminate pimples.
X-Pressin: helps reduce blackheads and smooth skin texture. The Avène Thermal Spring Water with soothing and anti-irritant helps reduce redness frequently encountered in young problem skin.
The retinaldehyde limits the formation of blemishes and prevents the appearance of residual marks.
Hypoallergenic, non-comedogenic. Made-In France.
AvÃne TriAcneal Skin Imperfections Residual Marks is an acne-regulating treatment to help reduce inflammation and breakouts while providing anti-aging benefits.Avene TriAcneal tackles multiple issues regarding blemish-prone skin by calming overly reactive skin, purifying clogged pores and preventing breakouts. Patented innovation, Efectiose, helps balance skin, reducing hyperactivity while retinaldehyde limits blemishes and residual marks. A 6% glycolic acid encourages exfoliation, sloughing away dead skin cells, unclogging pores and refining skin texture. Soothing AvÃne thermal spring water ensures calm, soft skin. Formulated to be gentle enough for sensitive skin types.For acne prone skin.