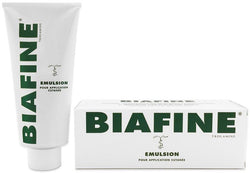 Biafine Emulsion Tube Cream 186g
DESCRIPTION
1st and 2nd degree burns
Sunburns
Traumatic and surgical wounds
Protection of Radiotherapy
Biafine is a water-based emulsion formulated for the dressing and management of superficial wounds, minor abrasions, dermal ulcers, donor sites, 1st and 2nd degree burns including sunburns and radiation dermatitis.
Biafine cream is used by a vast percent of French people and it's increasing in popularity around the globe for its unique properties.
It is in a cream emulsion form, and it's manufacturers say it can ve used daily without adverse reactions.