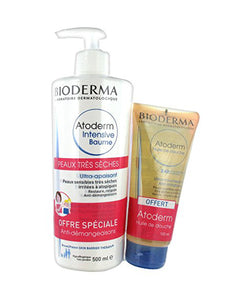 Bioderma Atoderm Intensive Balm (Plus Free Atoderm Cleansing Oil 100ml)
DESCRIPTION
Bioderma Atoderm Intensive Ultra-Soothing Balm 500ml + Free Shower Oil 100ml is a special offer, ideal for the hygiene and care of very dry skins.
The Skin Barrier Therapy patent allows to protect the skin from the bacteria responsible of irritations.
Free Atoderm Oil included is ultra light and slightly perfumed, the formula, when in contact with water and skin, turns into a foam and respects the most sensitive skins.
24 hour moisturizer, skin feels softer, cleaner, and more comfortable.
Excellent eye and cutaneous tolerance. Without soap, paraben, or colouring. Hypoallergenic.
- Bioderma Atoderm Intensive Ultra-Soothing Balm 500ml is an ultra-soothing and ultra-rich care recommended for sensitive very dry irritated to atopic skins of the whole family. Anti-itching, this balm restores and re-lipids the skin acting on the biological dis-functioning. It stops itching and reduces the need to scratch thanks to its dermatological anti-prurit PEA active ingredient. It immediately calms irritations thanks to the presence of beta-sistosterol and zinc. The Lipigenium composed of biolipids, allows to restore the cutaneous barrier. Indeed, these biolipids come into the skin and restore the protective film. The Skin Barrier Therapy allows to limit the adhesion and proliferation of staphylococcus aureus and the penetration of allergens, responsible of the dryness acceleration. Sanitized, the skin is soothed and repaired. Without fragrance, excellent tolerance, non comedogenic. Without paraben. Hypoallergenic. - Bioderma Atoderm Shower Oil 100ml with unctuous non greasy texture, gently cleanses. Composed of 33% relipidant and moisturising agents, its exclusive formula intensively moisturises the skin, calms sensations of itching and protects from external aggression.