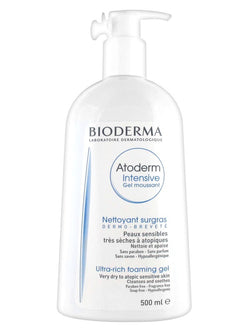 Bioderma Atoderm Intensive Ultra Rich Foaming Gel (500ml)
DESCRIPTION
Formulated with purifying ingredients and vitamin PP, Bioderma Atoderm Intensive Ultra-Rich Foaming Gel 500ml struggles against the proliferation of micro-organisms, irritant agents responsible for the graduation of the severeness of cutaneous dryness.
It gently cleanses sensitive dry to atopic skins and soothes sensations of discomfort, tingling and itching and contributes to strengthen the cutaneous barrier.
The natural patented DAF complex increases the tolerance of the skin, and its cleansing surfatty basis without soap and with physiological pH respects the skin.
Ideal for very dry, atopic, sensitive skin
Paraben, fragrance and soap-free. Hypoallergenic.
Apply on wet skin. Lather and then rinse thoroughly. Dry delicately. Apply a moisturizing care then. Suitable from the birth, except for premature infants. Indication: Cleansing of sensitive dry to atopic skins.