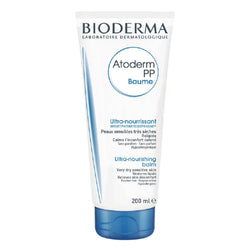 Bioderma Atoderm PP 200 Ml.
DESCRIPTION
Emollient, intensive bio-repair daily care for the cutaneous barrier, to restore the hydrolipidic film and restructure for severe and recurrent cutaneous dryness and very dry reactive skin.
Restores the hydrolipidic film. Soothes, repairs.
Thanks to a unique, innovative formula, Atoderm PP stimulates the natural cutaneous barrier repair process. Vitamin PP helps the skin cells to naturally produce the lipids (ceramides, free fatty acids and cholesterol) needed for effective cohesion of the intercellular cement. Dampening and moisturising active ingredients strengthen the barrier role of the lipids. Atoderm PP thus restores a comfortable moisturisation level. Its formulation and the absence of fragrance guarantee optimum tolerance. Atoderm PP texture spreads easily and penetrates fast. Properties Fragrance-free formula. Hypoallergenic. Adults, children, babies. 200 ml tube.