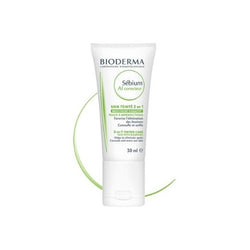 Bioderma Sebium Ai Correcteur
DESCRIPTION
2-in-1 Tinted care skin with blemish treatment
Helps to eliminate spots, conceals and evens out skin.
Non comedogenic - Hypoallergenic.
Light, non-oily texture. Tolerance validated on acne-prone skin.
Properties : Stemming from the latest dermatological advances, Sbium Al correcteur promotes the elimination of spots by a multi-targeted action. The exclusive patented Fluidactiv comlex : - helps neutralise the bacteria responsible for inflammation, soothes redness and limits the appearance of spots - biologically restores sebum quality and prevents pores from becoming blocked, limiting the formation, of blackheads. Zinc gluconate exerts antibacterial action and reduces shine. Sbium Al correcteur lowers the risk of residual marks, so the skin is clearer. Its 2-in-1 pack provides dual action : neutralises redness - evens out the complexion.