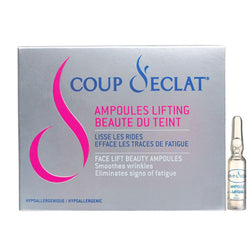 Coup d'Eclat Instant Lifting Ampoules Set of 3 x 1ml
DESCRIPTION
Coup d'Eclat offers a range of natural anti-aging skin care products from Laboratoires Asepta
Instant Lifting Ampoules are safe for all skin types and contain a serum that is applied to cleansed skin to give an instant face lift lasting 8 hours
Skin becomes smoother and more radiant, traces of fatigue disappear, and fine lines are smoothed out
When mixed with liquid foundation, make-up is held in place for an all day glow
New plastic ampoules are safe and easy to use
Coup d'Eclat offers a range of natural anti-aging skin care products from
Laboratoires Asepta. Asepta invented the first Instant Facial Lifting Product
in 1967 and continues to provide excellent products. Today Coup D'Eclat's
Instant Face Lifting Ampoules are still the market leader when it comes to
facial lifting products and the line has extended into a range of high-end
anti-aging facial treatments and a 12 day collagen treatment as well. Coup
d'Eclat Instant Lifting Ampoules contain a serum that is applied to cleansed
skin to give an instant face lift lasting 8 hours. Skin becomes smoother and
more radiant, traces of fatigue disappear, and fine lines are smoothed out.
Acmella extract (a South American plant) produces a myo-relaxing (Botox-Like)
effect along with a soothing action. This softens tension of the face and
smoothes expression wrinkles. When mixed with liquid foundation, make-up is
held in place for an all day glow. Suitable for all skin types. New plastic
ampoules are safe and easy to use.