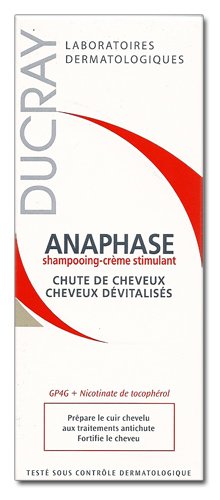 Ducray Anaphase Hair Loss Shampoo Pack of 2 X 200ml - Genuine French Product
DESCRIPTION
Anaphase shampoo is a true source of energy for the hair and their root. It strengthens the hair thanks to the combined action of the vitamins B5, B6 and B8, which stimulate the cellular syntheses and increase the production of keratin.
Anaphase shampoo is the perfect complement of the thining treatments, of which it prepares the action on the level of the scalp but it can also be used in capillary period of brittleness or less vigorous hair. perfectly tolerated, it can be use as often you wish it.
Ducray Anaphase is a stimulating cream shampoo suitable for use in increased hair loss. Its patented composition (Ruscus and Nicotinate tocopherol) ensures stimulation of microcirculation in the scalp and provides cells of the hair bulb with energetic substances necessary for their metabolism. Shampoo is enriched with vitamins B5, B6 and B8. Ducray Anaphase is suitable for fragile and tired hair, it is very well tolerated and can be used whenever is needed. The cream shampoo Anaphase is a suitable supplement to the nourishing product Ducray Anastim. This patented association of active ingredients stimulates the microcirculation of the scalp and brings to the cells of hair bulb the energy elements necessary to their metabolism. Enriched in vitamins B5, B6 and B8, Anaphase shampoo-cream is also adapted to the weakened and devitalised hair. A regular use contributes to effectively preserve the abundance of hair. It gives hair its original strength, volume and vigour. Its particularly consistent creamy-texture allows massaging the scalp. Active ingredients: Ruscus, tocopherol nicotinate, vitamins B5, B6 and B8.