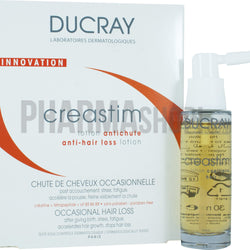 Ducray Creastim Anti-hair Loss Lotion 2 x 30ml
DESCRIPTION
Newest and more effective version of Anastim by Ducray
Creastim was created to combat factors such as stress, pregnancy, seasonal changes, taking certain medications or emotional shock, the main causes of hair loss
Ducray Creastim Anti-hair Loss Lotion 2 x 30ml Occasional hair loss generally
occurs in women and is caused by factors such as stress, postpartum periods,
season changes, concomitant medication or an emotional shock. Enriched in
creatine, vitamins and tetrapeptide Ducray Creastim Anti-hair Loss Lotion 2 x
30ml is the ideal solution in case of occasional hair loss. Thanks to its
combination of actives, the lotion will act as a catalyst by encouraging
proliferation of hair root cells, providing the necessary energy and
stimulating the main factors implicated in the maintaining of the hair growth
phase and the microcirculation of the scalp. After one month of treatment, the
hair mass is increased because the hair loss is stopped. The hair is
fortified, gains in density and recovers its volume and vitality. Its texture
is adapted to all hair types even sensitive ones, penetrates easily and
rapidly letting no greasy film on the hair. Paraben-free. Tested under
dermatological control.