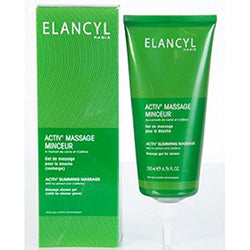 Elancyl Anti Cellulite Activ'slimming Massage Gel for Shower Refill for Shower Glove
DESCRIPTION
Promotes the elimination of fats storage and reduces adipose.
Decongests tissues and promotes water and toxins' elimination.
It drains with its anti-cellulite properties, smoothes the dimple aspect of the skin.
As a result, your skin is smoother, firmer, drained and toned.
ACTIVE SLIMMING MASSAGE associates the effects of a slimming massage with specific glove with the action of an anti-cellulite shower-gel. The massage glove stimulates micro-circulation and encourages tissues draining and dead cells elimination. The slimming gel itself has decongesting and draining properties, containing caffeine, hawkweed and ivy extract. INSTRUCTIONS: Put a gel dose under the glove's handle, in the hole. To be used everyday during 4 weeks in the shower. Massage vigorously the areas you need to drain (thighs, buttock, hips) and rinse.