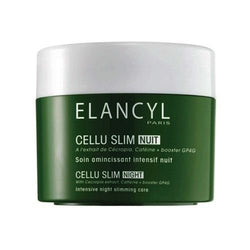 Elancyl Cellu-Slim Anti-Cellulite Intensive Slimming Night 250 Ml
DESCRIPTION
Innovative, slimming care that fights stubborn cellulite installed in the thighs, hips and buttocks
Specially developed for performance night, when the body is at rest, favoring storage of fats, possess a clinically proven efficacy and reduction of cellulite smoothing from 14 nights.
Visible results from 14 nights: visible smoothening of the cellulite nodules, slimmer silhouette and firm skin hydrated and smooth. Cellu Slim has a deliciously velvety texture and a floral aroma and effervescent evoking pleasure and sensory stimulation. Directions for use Apply exclusively at night through the Elancyl massage, to promote the anti-cellulite action. For most obvious results and sustained, associate with the careful Elancyl Cellu Slim Day.