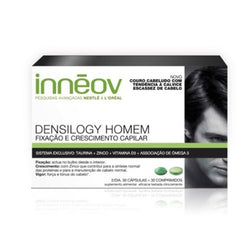 Inneov Densilogy for Men 60 caps
DESCRIPTION
3 months to act on the anchorage and growth of hair *.
3 months is the minimum time required to make your hair problem at the root, in order to obtain efficacy results seen.
FOOD SUPPLEMENTS :Volume: Zinc contributes to the maintenance of normal hair.
Under endogenous stress the hair follicle produces thinner hair and the hair volume decreases.