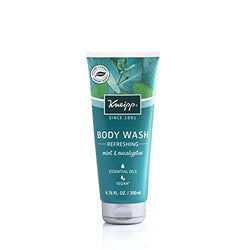 Kneipp Mint and Eucalyptus Sinus Relief Body Wash 200ml
DESCRIPTION
This gentle body wash clears the senses and provides relief during the cold and flu season.
Energizing and Refreshing Body Wash This refreshing body
wash is loaded with eucalyptus essential oil and natural mint to deliver an
aromatic treatment to help open the airways and relieve congestion and brain
fog. This soap-free and pH-balanced formula cleanses gently, leaving the skin
soft and supple without drying it out. Read more Powerful Aromatherapy in the
Shower Loaded with therapeutic essential oils and nourishing oils to cleanse
the skin without drying it out. Discover a botanical experience to bring your
well-being in to balance.Our therapeutic grade oils are sourced sustainably
and obtained from the fresh leaves of Eucalyptus trees. Read more Eucalyptus
Body Wash Evening Primrose Body Wash Almond Blossom Body Wash Passionfruit &
Grapefruit Body Wash Lavender Body Wash Orange Blossom and Mandarin Body Wash
Key Benefit Soothe Sinus and Cold Dry Skin Relief Soft Skin Moisturizer Mood
Boosting Relaxation & Balance Stress Relief Essential Oils ✓ Nourishing Plant
Oils Nourishing Plant Oils ✓ ✓ ✓ Vegan ✓ ✓ ✓ ✓ ✓ ✓ Scent Minty & Fresh Floral
& Fresh Floral & Sweet Citrus & Fruity Floral & Clean Floral & Fruity
Fomulated without Parabens ✓ ✓ ✓ ✓ ✓ ✓ Our Heritage Founded by Sebastian
Kneipp, a pioneer in the naturopathic and hydrotherapy movement and
philosophy. His passion for medicinal plants and the power of water led to a
plant-based bath and body care collection designed to improve well-being.
Kneipp is the leading brand in Germany and sold in over 30 countries
worldwide. Read more