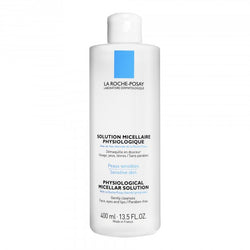 La Roche Posay Physiological Micellaire Cleansing Water 400ml
DESCRIPTION
Dirt-encapsulating micelles cleanse skin from dirt, oil, makeup, and even pollution particles
Gentle and refreshing water-like formula that's mildly scented
Use as a daily no-rinse cleanser, makeup remover, and/or toner
BEST OF BEAUTY ALLURE WINNER. 
Micelles cleanse down to microscopic pollution particles. Removes what you see and even what you can't see from your skin.
WHAT IS A MICELLAR WATER?

Micellar waters are no rinse cleansers that take their name from micelles, the microscopic cleansing agents that are used in their formulas. These micelles have a lipophilic core that attract oil and impurities


HOW DOES IT WORK?

When micelles interact with the skin, they naturally lift dirt, oil, makeup, and even pollution on contact with no harsh rubbing necessary.


WHAT DOES IT DO?

Makeup and impurities are trapped in the micelles oil absorbing core and are dissolved from the skin leaving it perfectly cleansed, hydrated and refreshed. No rinse necessary.