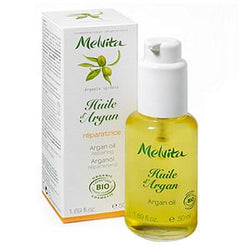 Melvita Plant Oils Argan Oil
DESCRIPTION
Rich in Vitamin E and Omega 6, this oil helps to protect skin and hair.
This product meets our natural beauty standards with a high concentration of
quality natural botanicals while keeping harsh chemicals to a minimum. Rich in
Vitamin E and Omega 6, Argan Oil is ideal for protecting skin and hair from
premature aging, UV exposure and other environmental factors. A true
regenerator, Argan oil is often used as a moisturizer for dry skin and as a
smoother for damaged hair. Benefits: Can be used for massaging joints. Helps
to soften cuticles. Soothes irritated skin. Formula is colorant and
preservative free. 100% of the total ingredients are from natural origins.