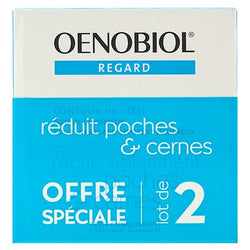 Oenobiol Regard Eye Contour (PACK OF TWO)
DESCRIPTION
Acts on puffiness and dark circles
Indications : dark circles, puffiness.Works from within for rested and radiant
eyes. Exclusive formula of bilberry and grape-seed extracts. Properties :
bilberry and grape-seed extracts have been chosen for their activating
properties of NO. NO, a molecule naturally synthesized in our body, stimulates
the circulation and the oxygenation of the tissues. The bioactive elements of
Oenobiol Eye Contour, by stimulating the synthesis of NO, increase the
microcirculation and oxygenation around the eye. Clinically-tested under
dermatological control, Oenobiol Eye Contour drains and detoxifies the contour
of the eyes. As from the 15th day, the size of the bags visibly diminishes,
producing a rested and radiant eyes. Recommended use : 2 sugar-coated tablets
per day, for a 30-day cure, to be repeated as required. 2 Boxes of 30 sugar-
coated tablets each.