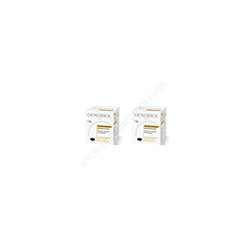 OENOBIOL Tan Enhancer Nutri-Protection DUO (2 x 30 caps)
DESCRIPTION
Oenobiol Tan Enhancer Intensive activates tan and improve the skin's tolerance to the sun. It guarantees a luminous, intense and durable tan while preserving the skin's youth capital.
Clinically tested in double blind versus placebo under dermatological control.
The Lutein, naturally existing Cartenoid in the retina and cristallin, filters the blue light, which is harmful for the eyes.
Oenobiol Tan Enhancer Intensive is adapted to the normal and combination skins.
1 capsule per day during a meal: - 15 days minimum before sun exposure to prepare the skin, - during sun exposure to activate tanning, - after sun exposure to prolong it. Does not protect from the sunstrokes. A sunscreen and sunglasses remain essential during sun exposure. Indication: Prepare, activate and prolong the tan while fighting the signs of ageing