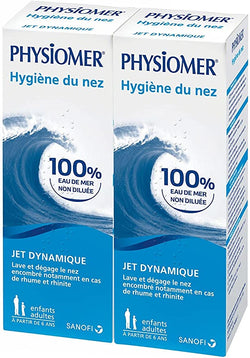 Physiomer Nasal Hygiene Dynamic Jet 2 x 135ml
DESCRIPTION
Preservatives free.
Propellant gas free.
Physiomer Nasal Hygiene Dynamic Jet 2 x 135ml is a solution based on sea water indicated in case of cold, rhinitis and/or in daily:
- washes and clears the congested nose,
- diminishes viscosity of mucus and facilitates its elimination,
- cleanses the nasal cavities and evacuates the infectious agents and allergens,
- participates to the protection against infections,
- reduces the intensity and frequency of cold symptoms of cold and rhinitis,
- moisturises the nasal mucosa.
The production method preserves all the mineral salts and trace-elements of this sea water non diluted. By aseptic treatment, sterility is ensured after each use.
Its tip is specially adapted and allows a use in every positions.
Preservatives free. Propellant gas free.