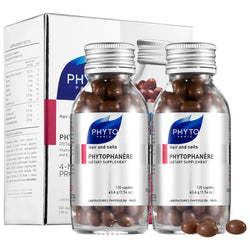 Phytophanere Dietary Supplement - Hair & Nails 2 pack (240 caps)
DESCRIPTION
What it is formulated WITHOUT: - Parabens - Sulfates - Phthalates
Suggested Usage: -Take two caplets once a day, preferably in the morning, over a four-month period.
Harnessing the power of natural elements, each daily dose of this nourishing vitamin, consisting of essential fatty acids and an antioxidant blend, promotes healthy hair growth, strengthens nails, illuminates skin, and fortifies and lengthens lashes. Hair regains its density and shine—and you feel beautifully healthy.