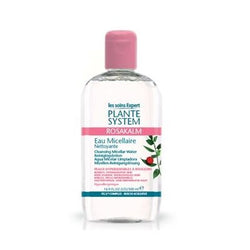 Plante System Rosakalm Organic Cleansing Micellar Water 500ml
DESCRIPTION
ROSAKALM Micellar Water with Ruscus extract is a treatment specifically formulated for hypersensitive and highly reactive skins which present different levels of redness linked to weakened capillaries.
Astringent and tonic ruscus (with Ruscogenin), and chamomile water bring their refreshing and softening properties to ROSAKALM micellar water
. Green tea and rosa moschata antibacterial and antioxidant extracts eliminate impurities from the skin.
imported from France
Use Soak a cotton ball with ROSAKALM cleansing micellar water. Cleanse the
whole of the face. Repeat if necessary until there are no further traces of
impurities on the cotton ball. DO NOT RINSE. Continue by applying ROSAKALM
anti-redness cream. Results Cleansed skin with all traces of makeup removed,
ideal for sensitive skin or skin prone to redness. Composition Active
ingredients: Cornflower water: softening and soothing. Ruscus: astringent,
vasoconstrictor, tonic and refreshing. Rosa moschata: emollient and
antioxidant. Green tea: antibacterial and antioxidant. PES complex: Olive tree
(anti-elastase and antioxidant action), Sea buckthorn (tissue-regenerating
action), Green tea (anti-free radical action).