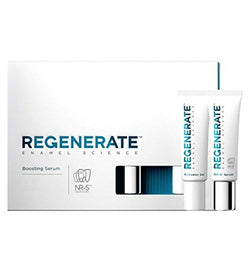 Regenerate Enamel Boosting Serum
DESCRIPTION
With a monthly use, the Regenerate Enamel Science Boosting Serum boosts the effectiveness of the Advanced Toothpaste by 43%**, maximising the power of enamel mineral regeneration*.
When combined with Activator Gel, the unique NR-5 Serum unleashes a concentrated regeneration boost of the formula, helping to reverse the early enamel erosion process*.
This set contains the following products: Regenerate Enamel Science NR-5 Boosting Serum Regenerate Enamel Science Activator Gel x 2 Custom Fit Mouth Trays x 1 Mixing Stick Directions for use: Pick up the mouth tray and apply one single thin layer of the NR-5 Serum in the mouth tray. Add one single layer of Activator Gel into the mouth tray on top of the NR-5 Serum. Use the mixing stick contained in the mouth tra holder and accurately mix the two ingredients. Begin the application in the dental arch of the upper jaw and insert in the mouth tray. Hold the tray for 3 minutes. Once the application is over, remove the mouth tray and gently rinse your mouth with water to remove product residue. Regenerate Enamel Science Boosting Serum should be used every month, for three consecutive days, preferably before bed time. *Acts on early invisible stages of enamel erosion. Helps to regenerate enamel by restoring its mineral content and micro hardness with regular use. Clinically proven. **As demonstrated in a 3 days in vitro test measuring enamel hardness: combined use of Advanced Toothpaste and Boosting Serum vs Advanced Toothpaste only. PRODUCT DETAILS Brand: Regenerate Ingredients: NR-5 Serum: Glycerin, Calcium Silicate, PEG-8, Trisodium Phosphate, Sodium Phosphate, Aqua, PEG-60, Sodium Lauryl Sulfate, Sodium Monoflourophosphate, Aroma/flavour, Hydrated Silica, Synthetic Fluorphlogopite, Sodium Saccharin, Polyacrylic Acid, Tin Oxide, CI 77891, Limonene. Activator gel: Aqaua, Glycerin, Cellulose, Gum, Sodium Flouride, Benzyl Alchohol, Ethylexylglycerin, Phenoxyethanol, CI 42090.