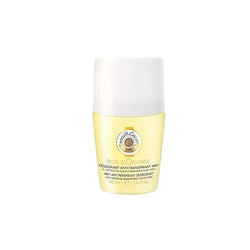 Roger & Gallet Fleur De Figuier 48H Anti Perspirant Deodorant Roll On, 1.6 Ounce
DESCRIPTION
A delicately-scented deodorant roll-on
Contains orange blossom extract and aloe Vera for hydrating soothing and calming Benefits
Offers protection against humidity for 48 hours
Fleur de Figuier deodorant provides optimal antiperspirant protection for 48 hours for long-lasting intense freshness, thanks to regulating agents with anti-humidity and antibacterial properties.
Enriched with precious fig extracts and aloe vera, known for its soothing and softening properties, this deodorant refreshes and scents while respecting the most sensitive skin types.
This deodorant will perfectly complement the Fleur de Figuier beauty ritual.