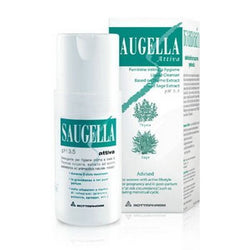 Saugella Attiva pH 3.5 Feminine Wash Specific Cleanser Intimate Hygiene 100ml.
DESCRIPTION
Specific cleanser for intimate hygiene
With natural extracts of Thyme and Sage
Alpha-Ketoglutaric Acid & Lipid Component
Anti-bacterial action for cases with the risk of infection
Menstrual Period, Pregnancy, Post-Partum, Work Outside Home & from Public Restroom
Specific cleanser for intimate hygiene. With natural extracts of Thyme and
Sage, it is useful in all situations when it is necessary to combine the
cleaning action with a natural anti-bacterial one (during menstrual cycles, in
post partum, while travelling, in the gym). It performs an active prevention
against the onset of possible irritations of the skin and mucous membranes. It
favours the restoration of the natural physiological defences. pH 3.5.
Activity: SAUGELLA restores the physiological acidity of the surface of the
skin and mucous membranes of the female genitalia. Ingredients: Aqua, TEA-
Lauryl Sulfate, Ammonium Lauryl Sulfate, Propylene Glycol, Thymus Vulgaris,
PEG-2-Stearate, Lac, Hydroxyethylcellulose, Hydrogenated Coconut Oil, Lactic
Acid, Glycol Stearate, Salvia officinalis, Sodium Methylparaben, 2-Oxoglutaric
Acid, Cholesterol.