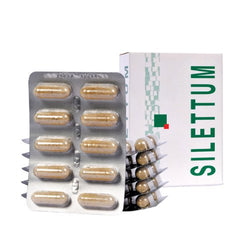 Silettum - Hair Loss Prevention Supplements, 60 capsules
DESCRIPTION
Stimulating the hair growing SILETTUM has been developed to stop the falling out and stimulate growth.
It improves its vigor and bring a shinning effect to dry and weakened hair .
Lithothamnium calcareum and Palmaria palmata are two seaweeds which stalks contain : - Silicium, sternghtening the hair, nails conjunctive bone membranes, articulations, and the skin. - An association of Calcium, Magnesium, Potassium, iron, Phosphorus, Iodine Manganese, Zinc, which are hair remineralising factors.
directions for use : hair loss : 2 caps a day. dry, fragile and damaged hair : 1 caps a day. 2 month supply to be renewed