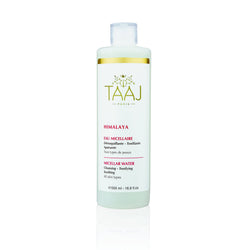 Taaj Himalaya Micellar Water 500ml
DESCRIPTION
This gentle but effective micellar water tones skin and removes make-up
It particularly suits sensitive skins and is perfect for the eye contour area, thanks to its soothing and calming properties
It softly cleans and tones your face as a result, skin is luminous and complexion is revitalised.
This antioxidant make-up remover is gentle to even the most sensitive of skins and leaves us feeling refreshed and rejuvenated.
The blend of plant extracts is invigorating and the rosemary and green tea improves resistance to stress.
Moisten a cotton pad and gently remove make-up from eyes, face and neck until the cotton is perfectly clean. No need to rinse.