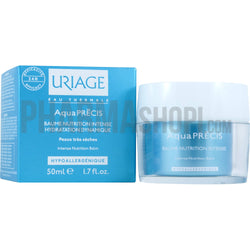 Uriage Aquaprecis Nutrition Balm 50ml
DESCRIPTION
Uriage AquaPRCIS Intense Nutrition Balm 50ml with mild and ultra-rich texture moisturizes and nourishes very dry skins.
Combined with organic osmolytes, Uriage Thermal Water minerals create a dynamic hydration. They activate the cell hydration mecanism, regulate and prolong its effect through the time. Its formula contains anti-pollution agents, shea butter and limnanthes alba.
The protective film of the skin is strengthened and the outer layer of the skin too. It recovers suppleness and is velvety.
Non-comedogenic. Fragrance-free.
Minerals contained in Uriage thermal Water combine with organic osmolytes to create a dynamic skin hydration. They activate the cellular hydration mechanism, regulate it and prolong its effects durably. This Ultra-richsmooth texture nourishes the skin and reinforces the skin's surface protective film. The skin's smooth touch and long lasting well being are restored.