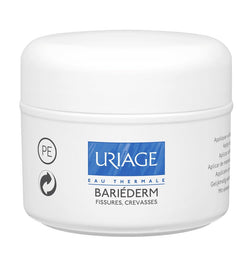 Uriage Bariderm Fissures, Cracks 40 Gr.
DESCRIPTION
■Recent or old cracks or fissures with or without rough skin on the hands, feet, elbows and knees...
Properties: Bariderm Fissures, Cracks is the first "barrier" ointment containing Poly-2p: an exclusive patent specifically created by Laboratoires Dermatologiques d'Uriage. The combination of two polymers results in four properties, with proven efficacy: an isolating action on the surface > prevents future damage, a deep healing action > restores the epidermis, a softening action > rehydrates dry areas and provides comfort, a smoothing action > eliminates areas of roughness. Assets: An ointment that isolates, repairs and softens recent and old cracks and fissures Its supple, malleable and drip-free ointment texture can be used on all cracks and/or fissures. Painless, easy application. Fragrance-free, preservative-free, hypoallergenic formula. High tolerance: Hypoallergenic - Non comedogenic.