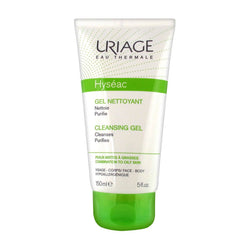 Uriage Hyseac Gentle Cleansing Gel 150 Ml. / 5 Fl.oz
DESCRIPTION
Combination to oily skin.
Cleanses and purifies.
Hyséac Gentle Cleansing Gel eliminates impurities and excess sebum, perfectly respecting the epidermis.
High rinsability, light foaming action in contact with water and its characteristic delicate fragrance of the Hyséac range provide an extremely pleasant to use product for every day. The skin becomes clearer, healthier and fresher.
Face and Body. Directions for use: Lather a small amount of gel in your hands and massage on wet face. Rinse thoroughly with water. The skin is now clean and clear without being damaged. Use mornings and evenings. Soap free.