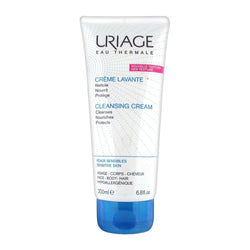 Uriage Nourishing and Cleansing Cream 200ml
DESCRIPTION
Sensitive and fragile skin.
Adults, children, babies.
Face, body and hair for all the family.
A liquid cleanser containing 1/3 nourishing milk, Crme Lavante is a 2-in-1 skincare product: cleanses and nourishes all at once. It preserves the hydrolipidic film, perfectly respects cutaneous balance and compensates for the drying-out effects of hard water. With a pleasant fragrance and a fine, creamy, easy-to-rinse foam, Crme Lavante leaves skin perfectly clean, soft and moisturized. Assets * 2-in-1 skincare: cleansing and nourishing. * 1/3 nourishing milk. * Soap-free cleansing base. * Fresh and light fragrance. * Ideal for all the family. * Opthalmologically tested. Instructions for use Moisten the skin, lather up and rinse. Use daily. Specifications Composition: Uriage Thermal Water - Soap-free cleansing base - Glycerin - Illipe extract -Moisturizing and superfatting agents. Paraben-free - Soap-free. High tolerance: Hypoallergenic.