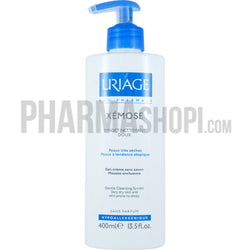 Uriage Xemose Syndet 400 Ml. 13.5 Fl.oz
DESCRIPTION
All dry skin.
Skin prone to atopy.
Babies, children, adults.
Face and body.
Properties: Xmose Gentle Cleansing Syndet is a very gentle cleansing cream- gel to provide safe and soft hygiene for daily use. The Uriage Thermal water, naturally rich in mineral salts and trace elements, associated with Cerasterol-2F and with specific super-fatting agents protect from the drying effect of the water thanks to their moisturizing and soothing properties. Assets: Smooth and soothing daily hygiene. Leaves the skin soft and supple. Unique formula: Uriage Thermal Water + Cerasterol-2F. Very smooth cream-gel texture, easy to rinse. Convenient pump bottle. Fragrance-free - Soap-free - Paraben-free - Physiological pH.