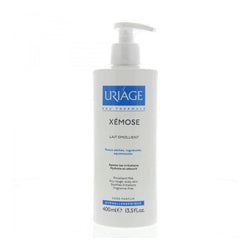 Uriage Xmose Emollient Milk 400ml
DESCRIPTION
Uriage Xémose Emollient Milk 400ml calms irritations, moisturizes and softens dry to very dry, rough and scaly skins of face and body, of the whole family.
Rich in Cerasterol and TLR2-Regul, two patented complexs and in Uriage spring thermal water,this emollient milk rapidly soothes, alleviates sensations of discomfort and reduces the need to scratch. It allows to restore the cutaneous barrier, calms irritations and strengthens skin's resistance in case of external aggressions.
The skin is hydrated, protected. It recovers its softness, suppleness and its comfort.
Tested on atopic and psoriasis prone skins.
Containing 3 patented complexes, this hydrating and protecive milk reduces
peaks of dryness and soothes feeling of skin tightness and discomfort. Apply
daily on clean skin. Penetrates deeply.