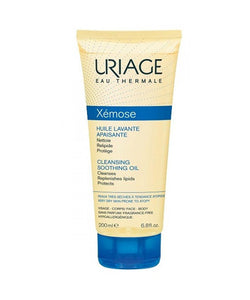 Uriage Xemose Cleansing Soothing Oil 200ml For Dry Skin
DESCRIPTION
Uriage Xémose Soothing Cleansing Oil 200ml cleanses soothes softens and protects dry to very dry skins or prone to atopy skins of the whole family.
The oil turns into a fine and creamy foam, in contact with water to gently cleanse. Uriage Spring Thermal Water and Cerasterol-2F bring protective and soothing effects to the skin.
Rich in superfatting agents to protect the skin from the drying effects of water (limestone), its formula also contains Spring Thermal Water rich in mineral salts and trace elements, allowing to soothe sensations of discomfort and reduce the urge to scratch. The skin is moisturized, supple and comfortable.
Fragrance-free. Hypoallergenic.
URIAGE XMOSE CLEANSING OIL SOOTHING Suitable for dry or very dry skin in atopic tendency. Fragrance free, hypoallergenic. Due to its degreasing agents, it protects the skin from dehydrating causatodall''acqua current. Clinically tested on atopic skin. How to use For the shower or bath, rinse and dry without rubbing. Format 200 ml tube. Cod. 15000725