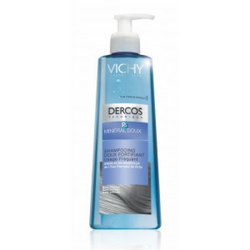 Vichy Dercos Mineral Soft Frequent Use Shampoo 400ml
DESCRIPTION
Frequent use shampoo, especially formulated for the whole family. Paraben-free, silicone-free, dye-free.
- Mangenese in shampoo is an antioxydant.
- Silicon helps regenerate the cutaneous tissue
- Iron gives oxygen to the cells
- Calcium protects the tissues.
 Vichy Dercos Mineral Soft Shampoo contains the unique power of rare minerals of Vichy Thermal Water, in a frequent use shampoo.


Leaves the hair softer, stronger.