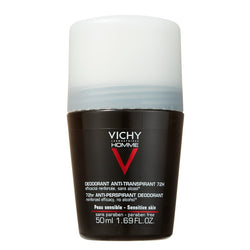 Vichy Mens Deodorant Anti Perspirant 72hr protection
DESCRIPTION
Ingredients: †Aluminium Salts – prevent sweating †Vichy Thermal Spa Water – contains 17 minerals and 13 trace elements, has soothing and strengthening properties, significantly reduces the symptoms of irritated skin, protects it from free radicals and stimulates the skin's defence mechanisms
How to use: Apply the deodorant to the underarms.
Vichy Homme Deodorant Roll-on soothes sensitive skin in the underarms and brings an instant and long-lasting feeling of freshness. Vichy Deodorant protects from sweat and odours for up to 48 hours without blocking the natural physical processes and reduces hypersensitivity of the skin. Paraben-free and fragrance-free. Suitable for everyday use. Prevent unwanted sweating for up to 48 hours! Use the unique Vichy Homme Déodorant Roll-on!